VRF Service Solution
Advantages of VRF: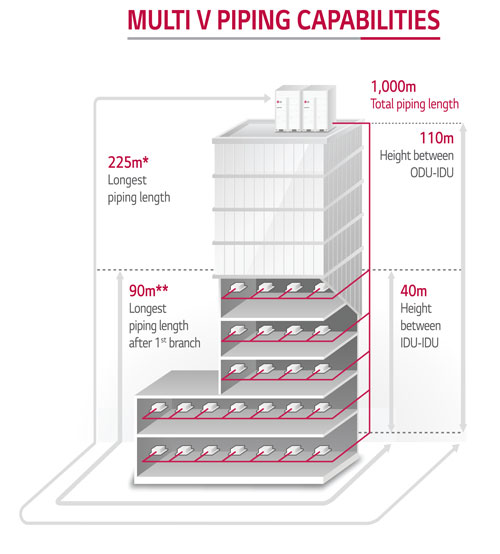 Energy Efficiency: VRF HVAC systems use less energy for several reasons. The system is designed to provide exactly the amount of cooling needed for the current conditions, which means it runs less frequently and at a lower capacity.
Quiet Operation: In a VRF HVAC system, the noisier condensing unit is typically outside and the indoor units are smaller and quieter than a traditional split system.
Heat and Cool Simultaneously: The VRF HVAC system captures residual heat absorbed from the air during the cooling process and redirects that heat to other parts of the building that need heat. That means you can have air conditioning in the living room for a party, while you need heat in the bedroom where the baby is sleeping. Or you can have heat in the winter for cooler window offices and air conditioning in the central conference room for a large meeting.
Consistent Comfort: The VRF HVAC system's compressor can detect the precise requirements of each zone and send the precise amount of refrigerant needed to do the job. As a result, each area of your space is consistently comfortable with well-controlled humidity and no hot or cold spots.
Less Downtime: Since the VRF HVAC system is designed to run only when needed and under partial-load conditions, there is less wear and tear on the parts.
Requires Less Space: Since the Indoor Units are smaller and VRF HVAC systems don't usually require ducts, they don't require as much wall and ceiling space for the equipment. That means you get to keep those gorgeous high ceilings in your office & apartment.
Modern Controls: For residences, you can take advantage of mobile control technology that lets you adjust temperature settings for each zone from your mobile device. For commercial settings, the VRF HVAC system's built-in controls may allow you to skip purchasing expensive building management software.
About DAIKIN VRF Technology:
Variable Refrigerant Flow (VRF) is a technology introduced as a system to minimize efficiency losses and provide sustainable energy benefits. DAIKIN VRF systems are engineered to save on the cost of ducts, distribution fans, water pumps & water piping. VRF Systems have a lower life-cycle cost of any system on the market today.
Why DAIKIN VRF?
DAIKIN have the latest modern fifth generation technology of inverter control systems, it requires less power consumption, on-site combination & installation flexibility, diverse units that meet any designers demands and outstanding performance for users. Moreover LG brand has long time experience in this sector.
With DAIKIN'S latest inverter technology compressor, the DAIKIN Multi V system matches variable load. This helps prevent constant cycling and results in tight temperature control, superior dehumidification and optimized efficiency. Occupants are able to stay comfortable while reducing utility costs.
Home Solutions
High-Efficiency Air-Conditioners
Has your home been around since 1902? We sure have. Whether you're installing a new HVAC system in a historic home or you just need to heat and cool a small space that you don't use often, you can turn to Carrier. We offer a full line of high-efficiency ductless solutions that can fit your needs without compromising the integrity of the space or comfort.
Carrier® heating and air-conditioning systems are trusted to bring energy-efficient, quiet, consistent comfort to millions of people at home.
Business Solutions
The Next Generation of AquaForce
The 30XW-V water-sourced units are the premium solution for commercial and industrial applications where installers, consultants and building owners require maximum quality and performance.
Carrier® commercial building solutions are designed to meet the requirements of a variety of building types and applications. But they do share one thing in common: the need to do more with less. Our total solutions deliver industry-leading performance with less energy and lower environmental impact.
After sales support
Carrier Service beyond your expectations
Your daily challenge is a complex balance between maintaining optimal comfort levels, maximizing system uptimes and minimizing cost of ownership.
Carrier teams are committed to ensuring your peace of mind and supporting your business objectives throughout the lifecycle of your equipment.
Customer needs come first
Proximity & responsiveness
Carrier's expert technicians are there to take action, quickly. Comprehensive and highly efficient maintenance processes mean your equipment works at peak performance level. If necessary, you can rely on Carrier Rental Systems and readily available spare parts to avoid extended downtime.
Expertise & consultancy
Carrier has experienced teams, an extensive network of branches, top-grade logistics and powerful information systems. These industry-leading resources come together to deliver a best-in-class service.
Your Carrier experts will help you to find the right balance between enhancing energy efficiency and maximizing your investments.
Proactivity
As your preferred partner, Carrier designs tailored maintenance programs to meet your goals and optimize your business performance.
Worldwide recognized expertise
Asset Management
Advise on the fast-moving regulatory environment
Guidance for energy optimization solution
Information on EH&S guidance
Providing educational sessions
Technical expertise
Carrier technicians benefit from a multifaceted training program based on 110 years of industry experience to bring you top level, up-to-date service.
Technical training to ensure its teams remain familiar with all equipment types
Environmental, Health and Safety (EH&S) training to ensure the highest standards of ongoing safety
Service-oriented behavior training to demonstrate your commitment to your own customers
Maintenance Contact
We support our customers with a core group of specially skilled technicians, providing coverage, troubleshooting, and warranty information for Carrier and Toshiba products in Greece, Cyprus and the Balkans.
Our superbly trained technicians, specialists in A/C, heating and professional cooling systems, offer services in the following areas:
Installation and operation of products
Emergency service / repair with state of the art diagnostic equipment
Design, replace or upgrade equipment to optimize performance
Start – up / commissioning
A maintenance plan will guarantee that your system operates with maximum efficiency, providing the best possible value for money.
As we have all the necessary technical equipment, experience and training we offer tailored made maintenance contracts to meet the budget and operation needs of your facility. We offer you:
preventive maintenance to keep your equipment running in peak condition and
predictive maintenance services to identify potential problems before costly breakdowns occur
Our response time is 24 hours in Greece. Depending on the nature of the problem, we may be able to offer advice and support over the phone, thereby further reducing our response time.
The maintenance contracts offer the following discounts, among other benefits:
35% on any replacement parts needed
25% on materials
20% on call charge for 2-man crew
---
Types of maintenance contract
We give you a choice of three types of contract:
| | Perfomance | Perfomance Plus | Excellence |
| --- | --- | --- | --- |
| Maintenance | | | |
| Consumables | | | |
| Materials | – | – | |
| Spare parts | – | – | |
| Repair work | – | | |
Remote monitoring
A market leader must always be one step ahead of the competition. Carrier uses the latest advances in technology to anticipate and diagnose problems and monitor the operation of customers' systems from its own remote monitoring center.
The remote monitoring system allows us to keep your equipment under surveillance 24 hours a day, 365 days a year.
Time Line
If you are a dealer, a contractor or a technician you can find it ALL at TOTALINE
When you need aftermarket parts, you need a company you can rely on to provide quality products at an affordable price, all in one place. For more than 25 years, Totaline have been doing just that. Totaline was, and still is, a major aftermarket brand, and when you consider our numerous product and equipment offerings, it's easy to see how Totaline can help you get what you need to keep your business running smoothly.
Heating, ventilation, air conditioning, refrigeration…at Totaline, you'll find:
Parts, supplies, equipment and tools for residential and commercial applications. But it goes beyond that. Our sales people are the best-trained in the industry. They'll help you get what you need and get back to the job.
Make Totaline a daily stop. You'll find the big stuff… a compressor selection that will cover almost any application…
but you'll also find the little things that are easy, yet painful, to forget. Moreover, Totaline provides Carrier & Toshiba factory-authorized spare parts and a select offering of aftermarket HVAC/R (heating, ventilation, air conditioning and refrigeration) parts and supplies to dealer/contractors and technicians.
Warranty
Click on any file to download it
Do You Want We Start Your Project?